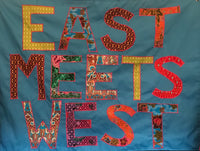 Welcome to East Meets West Interiors
I first travelled  to South East Asia in 1999 and fell in love with the countries and people I encountered there. I began bringing back pieces of the wonderful fabric I found in markets and shops to furnish my own home.
In 2017, my dream of turning this idea into a business became reality and East Meets West Interiors was born. I design, source and create a range of items using beautiful fabric, chosen in person from South East Asia. Many items are handmade by me at home, including cushion covers, quilts, doorstops and lavender wardrobe scenters.
In additon, since January 2019, due to increased demand, I began working with a manufacturer in Bangkok, Thailand to produce some of the yoga and tote bags I design. I visited the factory regularly to ensure that the employees are paid well, treated fairly and enjoy good working conditions. My aim is run a brand producing beautiful, unique designs of a high quality, with everyone in the chain receiving what is fair.
Due to restrictions in travel for Covid, in 2020, it was necessary for me to resume the production of all of my designs at home. This time has however allowed me to create new products, such as a range of cushion covers using recycled velvets in 2020 and a selection of velvet lined clutch bags developed in 2022. Personalisation of these items is also possible by adding a velvet initial- a design I accidentally created for my twin daughters' 8th birthday!
Now that travel restrictions to SE Asia have been fully relaxed, I am able to revisit the same family-run factory in Bangkok with my new designs. I can't wait for you to see them!
Choose something unique to treat yourself or as a gift. I am also able to take bespoke orders so if you'd like something special, just contact me to discuss. Happy shopping!